The team at Crew Legal have worked together for many years ensuring that people injured in accidents in Queensland receive quality legal advice and obtain excellent outcomes in their matters. We genuinely care about our clients. We are committed to ensuring injured people receive the best advice, the best outcomes and do so at a fair price. Above all else we value honesty, integrity and communication.
We are very good lawyers, but we are good people too.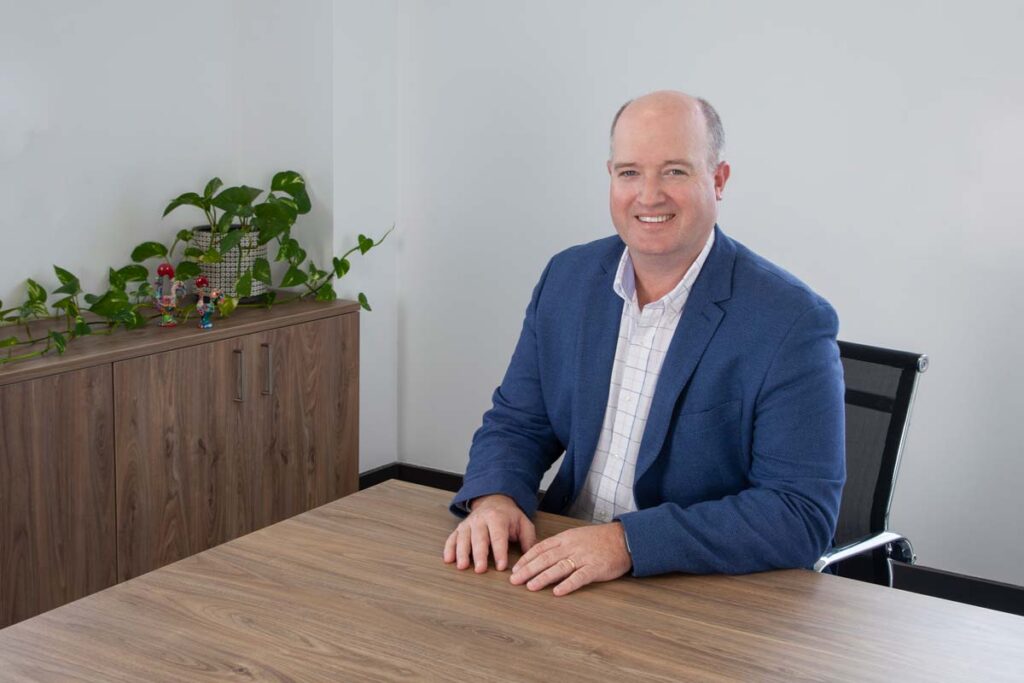 Shane is a highly regarded lawyer with professional excellence in compensation law in the areas of motor vehicle accidents, WorkCover claims, public liability claims and medical negligence claims.
Shane has practiced in injury law for nearly 20 years and is highly regarded by his peers. He is a Queensland Law Society Accredited Specialist in Personal Injury Law and is a passionate advocate for injured people.
Away from work, Shane is a committed family man with wife Rebecca and children Abby and Chase. He loves involving himself in his children's extra-curricular activities and has been fortunate enough to coach and assist with his children's soccer, rugby league, baseball and basketball teams. Shane's daughter Abby is a talented dancer and you will find him ferrying Abby around to her dance commitments and sitting front and centre at her performances.
Shane is a past President of the Sunshine Coast Law Association, past Vice President of the North Lakes Chamber of Commerce and past Committee member of the Queensland Law Society Personal Injury Accredited Specialist Advisory Committee.
Hayley was admitted as a lawyer in 2014 and has practiced solely in the area of personal injury law. She assists clients with various types of compensation claims including motor vehicle accidents, WorkCover, public liability and medical negligence.

During 2019, Hayley regularly travelled from Brisbane to work exclusively with clients in the Central Queensland region. She primarily assisted clients with workplace injuries occurring within the heavy industry sector.
Hayley first teamed up with Shane in 2010, working in support roles while completing her university studies. This experience from a grass roots level has given Hayley invaluable experience in assisting clients in all aspects of the claim process. Knowing that nothing she can do as a lawyer can take away the injuries a client has suffered and their consequences, Hayley is dedicated to ensuring her clients feel supported through the legal process and obtaining the best possible outcome to their claim.
Away from work, Hayley loves to spend time with her partner and tries to manage a couple of rambunctious dachshunds. She is an avid hockey player, having played for some 20 years and is a regular at her local personal training studio.
Hayley is a past committee member of the Moreton Bay Law Association and volunteers her time at Pine Rivers Community Legal Centre.
Shannen has been a personal assistant at an executive level for over 20 years and has spent most of her years in big-tier law firms before a move to the peninsula to help grow her husband's local business and raise their young family. 
Shannen is highly efficient at her role without skimping on the personal details and treats every client with the utmost dignity and respect. 
Shannen loves the relaxed lifestyle the peninsula offers and weekends are spent with her husband, two young daughters and two wayward dogs exploring the beach and rockpools, attending junior sporting events or what seems like the never-ending stream of children's birthday parties.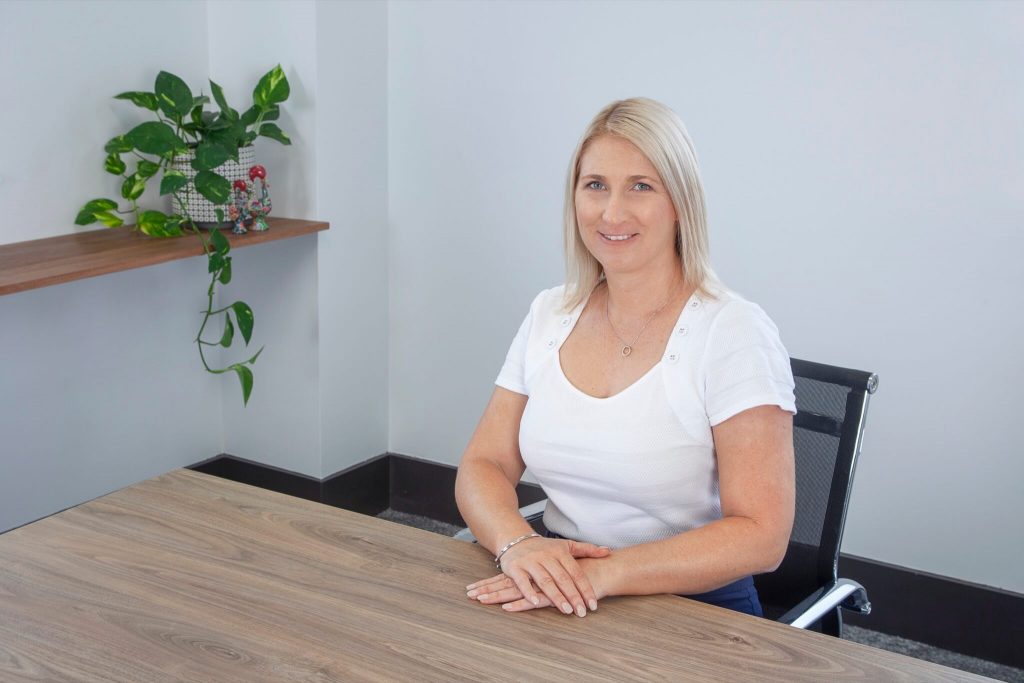 Rebecca joins the team to ensure customer service excellence to all of our clients. She has a strong history in customer service, having managed several retail outlets in her career along with working in a customer service role with the ANZ bank.
Rebecca is a committed Mum to children Abby and Chase and has been heavily involved in ensuring the success of their school life. She was a long-term President and Committee member of the Grace Lutheran Primary School Parents and Friends Committee, as well as being passionate about giving and fundraising to members of the community less fortunate. Rebecca is proud to regularly donate to local charities and is keen to set the example for her children to cherish the community in which they live and assist those in need.
Rebecca will greet you with a smile and a cup of tea or coffee and make sure your visit to Crew Legal is a positive one.
Casey has worked in the legal industry for 15 years – and directly with Shane and Hayley since 2009. Casey is always bright and bubbly, and to say she knows the ins and outs of each and every file is an understatement. There is no question Casey cannot answer and is always happy to put a client's mind at ease or go the extra mile to make sure each and every file runs smoothly through to completion.
Recently married and with 2 young children, Casey enjoys spending weekends at her parent's property or heading off in the 4×4 camping to the beach.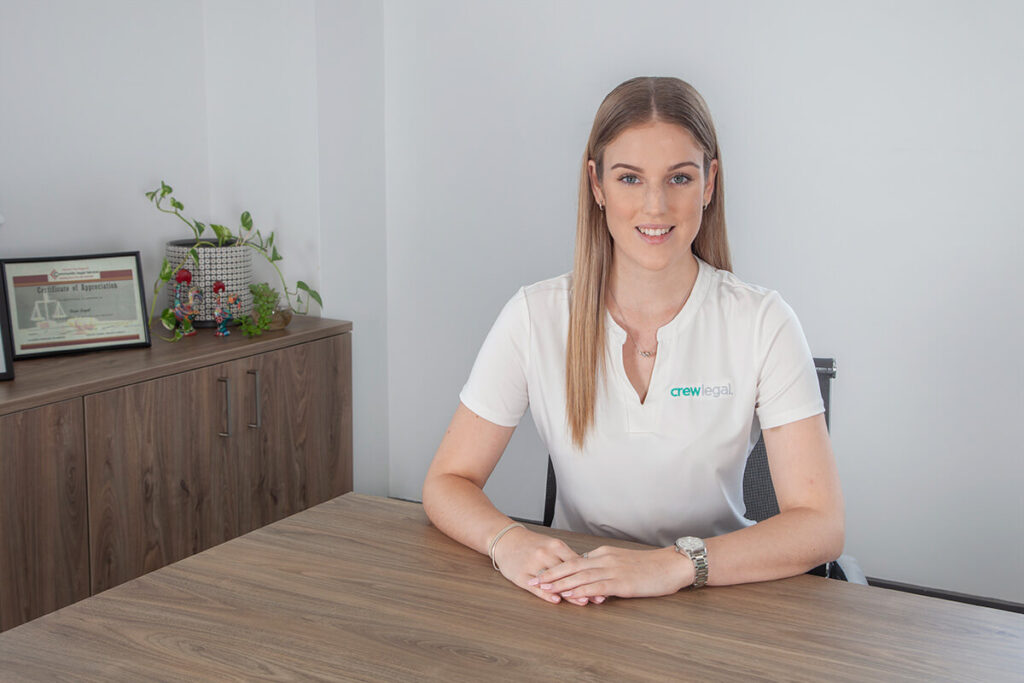 Hollie is currently undertaking her university studies completing a Bachelor of Laws and a Bachelor of Business (majoring in Marketing). With this being Hollie's first role in the legal industry, she is incredibly eager to learn all the ins and outs of legal processes and never steps away from assisting wherever it is needed. Hollie has a background in customer service and this experience helps her to assist our clients on a daily basis.
Aside from spending her spare time studying, Hollie enjoys time socialising with her family and friends or spending the morning at the beach with her two loved labradors.